100% cotton super soft.
Our direct-to-garment printing is pre-treated and printed individually to assure the longevity of the garment and a remarkable quality of goods. Our products have an incomparable finish that causes the print to submerge into the shirt.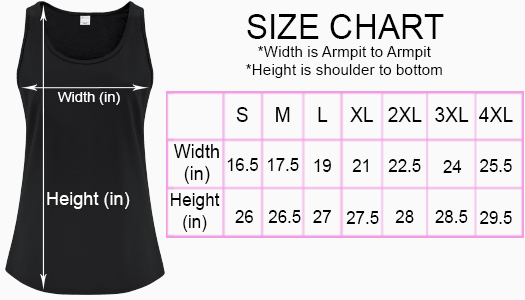 Reviews (34)
Good printing quality! Decent for the money
love it
ABSOLUTELY AWESOME!!!!!!!!!!!!!! Love them so much. Will definitely be buying more. Highly recommend this seller to every one. Great communication, service, delivery & very high quality products. Wish I could give you more stars
Even though I haven't wore it yet, I love it.
I am buying more stuffs from you guys
Quality and print is very good
Another amazing tank! Bought it for my best friend and she can't wait to wear it!
Absolutely love my singlet tops. Grrat quality and quick delivery.
Fits just right. Looks awesome. Too many compliments
Both good quality and perfect fit, size 14 so picked xl love them
Thanks for considering big girls like me. I have been looking every where but thanks God I finally found a store that carry over size tanks and shirts. xx
Tank tops with an attitude!! What more can you want?? MORE of them!!! True to size and so comfortable! Getting more!!! Love them!!
You just gained a client for life :)
People say my daughter and I are alike in that we're both sweet until someone wrongs and then , just like the shirt says ...buckle up buttercup....love your tanks! Thanks for your humor ! ! Love it and love the tank tops!
I recommend this company! Great job guys <3
I AM PLEASANTLY PLEASED WITH MY PURCHAES. THEY EXACTLY AS SHOWN IN PICTURES.
As promised
Good quality and sizing
Ordered the BUCKEL UP BUTTERCUP YOU JUST FLIPPED MY BITCH SWITCH singlet in black and love it.... Going to get some more...oh and a calendar
buckle up buttercup you just flipped my bitch switch t-shirts
You guys are amazing. Thank you
Great quality and sizing is true :)
I am so happy with my purchase and I will do it again. Thank you Boys :)
Another great top from the Inked Boys! Great quality, perfect fit and great delivery speed (I'm in Australia)! It's the middle of winter here! Hurry up spring I've got awesome tanks to wear!
Exactly as described and advertised :)
I told my friends to shop from you. Fast delivery and the quality is awesome
Love this product and got lots of compliments.
Tanks are true to size! Wash well! And everyone loved them! Especially me!!!
When I wear this I get all kinds of comments. Everyone just loves it!
I have brought 2 lots of shirts in a size L and 2xl and I love them. I'm a 12-14 so the large fits perfect into that. The material is comfortable and the writing is good quality
Absolutely love these
Love them!! I wear it all the time! Will surely order from TIB again.
I would shop again :) Love the quality
Buckle up buttercup tanks
I absolutely love my tanks the fit just right and came very quickly!!
My favourite shirt ever. Nice quality too. I recommend.