100% cotton super soft.
Our direct-to-garment printing is pre-treated and printed individually to assure the longevity of the garment and a remarkable quality of goods. Our products have an incomparable finish that causes the print to submerge into the shirt.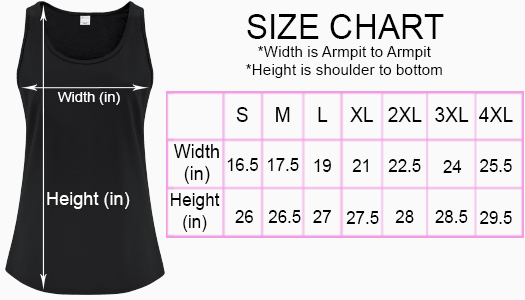 Reviews (66)
I love my tank top. ordered a size up and it's perfect.
J'adore
I love my shirt
This vest is great. Hubby starred at me for quite awhile when I first wore it> LOL Fantastic quality material too.
I lickeD it so its mIne tank tOp
I absolutely love it
I licked it so it's mine tank
I've received and love my top. I have 2 more orders on the way and will most definitely be back to order again.
Love it
Love it!!! Fits perfectly!!
I finally got them and I love them :) "perfect fit"
Fantastic quality will be ordering again from here thankyou
Fantastic quality will be ordering again from here thankyou
Love my shirt. Fits great
Love this tank
I love the shirts, I've purchased several of these and they are of good quality and don't fade with washing.
Love the shirt I ordered, was exactly what I wanted! good quality.
LOVE MY SHIRT! FAST SERVICE, VERY PLEASED WITH MY PURCHASE :) WHAT CAN I SAY EXCEPT---I CANT WAIT TO SEE WHAT I ORDER NEXT!
I love the tank top...
Great customer service :)
Great quality :) I will buy more items from you guys!
Fits perfect
I love it even more now I've seen it
Very comfortable! Love the art work!
Great Product
The buy 1 get 1 tank tops are wonderful and as pictured. I can't wait to place another order and soon. Also by the time I ordered, completed, shipped and received was not a long wait Thank you.
I absolutely love my tank. It fits fabulous
Love it :)
Best gift ever
I am a happy client
So cool fits perfect absolutely love it!
I adore this tank!!! It is perfect and has gotten me a few naughty comments.
exactly what I was looking for, true to size
Love it
very very happy about my purchase
The size is perfect, the print is just awesome :)
i love this tank, it fits perfectly and everybody gets a kick out of it
Love it great shirt, feels better that a white tank I had picked with different graphics
True to size love the tank top
The sizes offered are true to the real clothing size in stores. I bought this as a gift and I love it :)
Great quality and awesome fit (even for big boobs), the day it arrived I was so stoked and proud to wear it. I had an incident with the boys in blue (police) and the just couldn't stop staring and giggling at it. I was even asked where they could get one lol. So needless to say yes I stood out from everyone else and left a positive impression
I absolutely love this tank top, super comfy and fits awesome. Will totally purchase more when I see something else that's catches my eye like this one did
I love this vest the quality is really good and it fits perfectly !!!!!
Omg its the best top iv ever bought well made thanks so much
Licked it and liked it T shirt
Fab T shirt, daughter loved it. Excellent quality and speedy delivery.
Love it!
What you see it's what you get!! I love it!!!
I like the shirt and the material.
Great product..it fit so I'm happy about that.
I really like my new shirt
I really like my new shirt and would order from them again. Thanks
I'm happy with my tank top...as I am with all the tank tops I've received from you, so far.
Great fit and workmanship just love it
Beautiful Colors and Workmanship
Awesome :)
Love it, very comfy.
Happy with product
Really nice product fits well
Absolutely love my new tank top. Great material and well worth it. Will be buying from here again.
Love the quality :)
The tank top was exacly what I paid for everyone loves it
Fit was right and got tons of compliments.... I give this a hi-5
No complaints about the shirt. True size to fit ratio.
I love it
I just love it, good quality
I love this shirt! It's one of my favs fits great and the colours are bright and don't fade and soft ... Everywhere I go people stop to read it and want one!!!
Topic of Conversation to say the least
Fits perfectly, lovely material and very eye catching!!!!
Came out exactly like the picture and fits great.
I loved my top it was just like the picture and fantastic material .
I really like the tank top.
Good quality. Fits good.